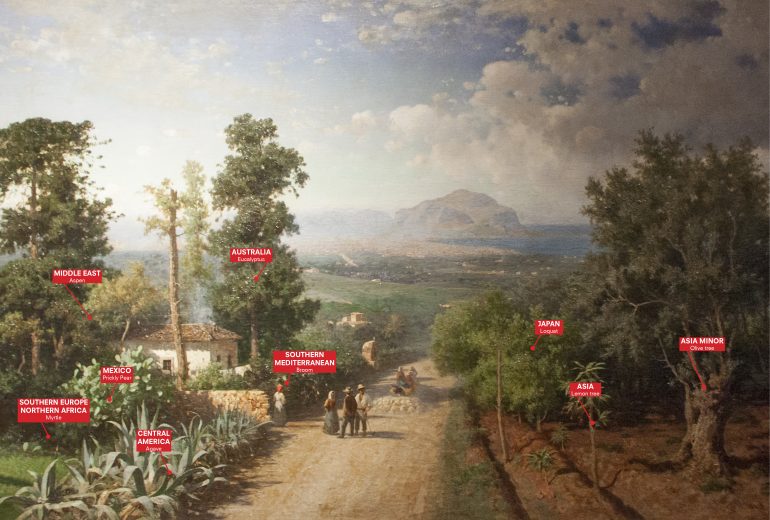 About the project
Palermo
2018
Manifesta 12, Palermo.
The Planetary Garden. Cultivating Coexistence.
Throughout history, the city of Palermo has been a laboratory for diversity and cross-pollination. Continuous migration – from the Ancient Greeks, the Arabs and the Normans to the recent arrival from Northern Africa, South East Asia and the Middle East – has constantly redefined the city and its people. Palermo's streets, architecture, parks, cultural legacy and personal histories are the result of a long-lasting syncretism of cultures across the Mediterranean and beyond.
In the 1875 painting View of Palermo by Francesco Lojacono – in the collection of the GAM Museum in Palermo – nothing is indigenous. Olive trees came from Asia, aspen from the Middle East, eucalyptus from Australia, prickly pear from Mexico, loquat from Japan. Citrus trees – a symbol of Sicily – were introduced under Arab sovereignty. The botanical garden of Palermo, Orto Botanico, was founded in 1779 as a laboratory to nurture, study, test, mix and integrate foreign species. Palermo's Orto Botanico inspired Manifesta 12 to look at the idea of the "garden", exploring its capacity to aggregate difference and to compose life out of movement and migration.
Gardens are places where diverse forms of life mix and adapt to co-exist. They allow for crosspollination based on encounter. In 1997, French botanist Gilles Clément described the world as a "planetary garden" with humanity in charge of being its gardener. But how to tend to a world that is moved by invisible informational networks, transnational private interests, algorithmic intelligence, environmental processes and ever-increasing inequalities? Twenty years later, the metaphor of the planet as a manageable garden is still attractive, not as a space for humans to take control, but rather as the sites where "gardeners" recognize their dependency on other species, and respond to climate, time, or an array of social factors, in a shared endeavor of caring.
Palermo Atlas, the urban study by OMA, reveals Palermo as a node in an expanded geography of movements – of people, capital, goods, data, seeds, germs – that are often invisible, untouchable and beyond our control. Palermo is shaped by these flows and journeys, from Somalia to Scandinavia, from Indonesia to Gibraltar and the Americas. Palermo is a global city, but one of the problematic-global, a place where key transnational issues converge – from climate change and illegal trafficking to the simultaneous impact of tourism and migration.
Palermo's position at the crossroads of three continents makes it an ideal location for Manifesta 12 to investigate some of the key changes of our time. But it is also a place where the current model of globalization is contested with new perspectives on civic engagement. In the 1990s, the Primavera di Palermo social movement against the mafia helped the city emerge from decades of criminal control, with a determination to establish new forms of civic agency. Similar ambitions arise in Palermo today, as it embraces migration and proposes new models of citizenship (the ambition to abolish the residence permit) and human rights (Mayor of Palermo Leoluca Orlando's proposal to establish mobility as a human right).
Collaborating closely with Palermitan partners, Manifesta 12 co-inhabits Palermo as a laboratory for the challenges of our time, looking for traces of possible futures. In the context of  globalization, Manifesta 12 chooses to be radically local in engaging with the city in all of its diverse components. The Planetary Garden hosts 5 main sections, each touching on key topics of the concept:
Garden of Flows will explore toxicity, plant life and the culture of gardening in relation to the global commons in Orto Botanico.
Out of Control Room will investigate power in today's regime of global flows. This part of the biennial takes place in Palazzo Costantino at Quattro Canti, once the political and symbolic center of the city, since long abandoned.

City on Stage will build on existing opportunities in the outskirts of Palermo to further develop plans that are stuck somehow and have not been realized. Productive collaborations can act as a catalyst and possibly extend into future initiatives in Palermo.

Manifesta 12 Publication occupies the space between print and digital with a dynamic publication that will evolve and auto-generate itself as a new issue every day throughout the biennial. Able to be printed on demand, the publication will replace the classic biennial catalogue with a more fluid and collaborative publication for the age of flows.

Teatro Garibaldi hosts a library, café and program of public events, including debates, workshops and film screenings (presentation of films shot in Palermo with introduction and/or Q&A).
Exhibition:
Manifesta 12, Palermo. The Planetary Garden. Cultivating Coexistence (16.06.18 – 04.11.18)
Credits
Manifesta 12, Palermo
The Planetary Garden.Cultivating Coexistence
Curated by
Bregtje van der Haak, Andrés Jaque, Ippolito Pestellini Laparelli, Mirjam Varadinis