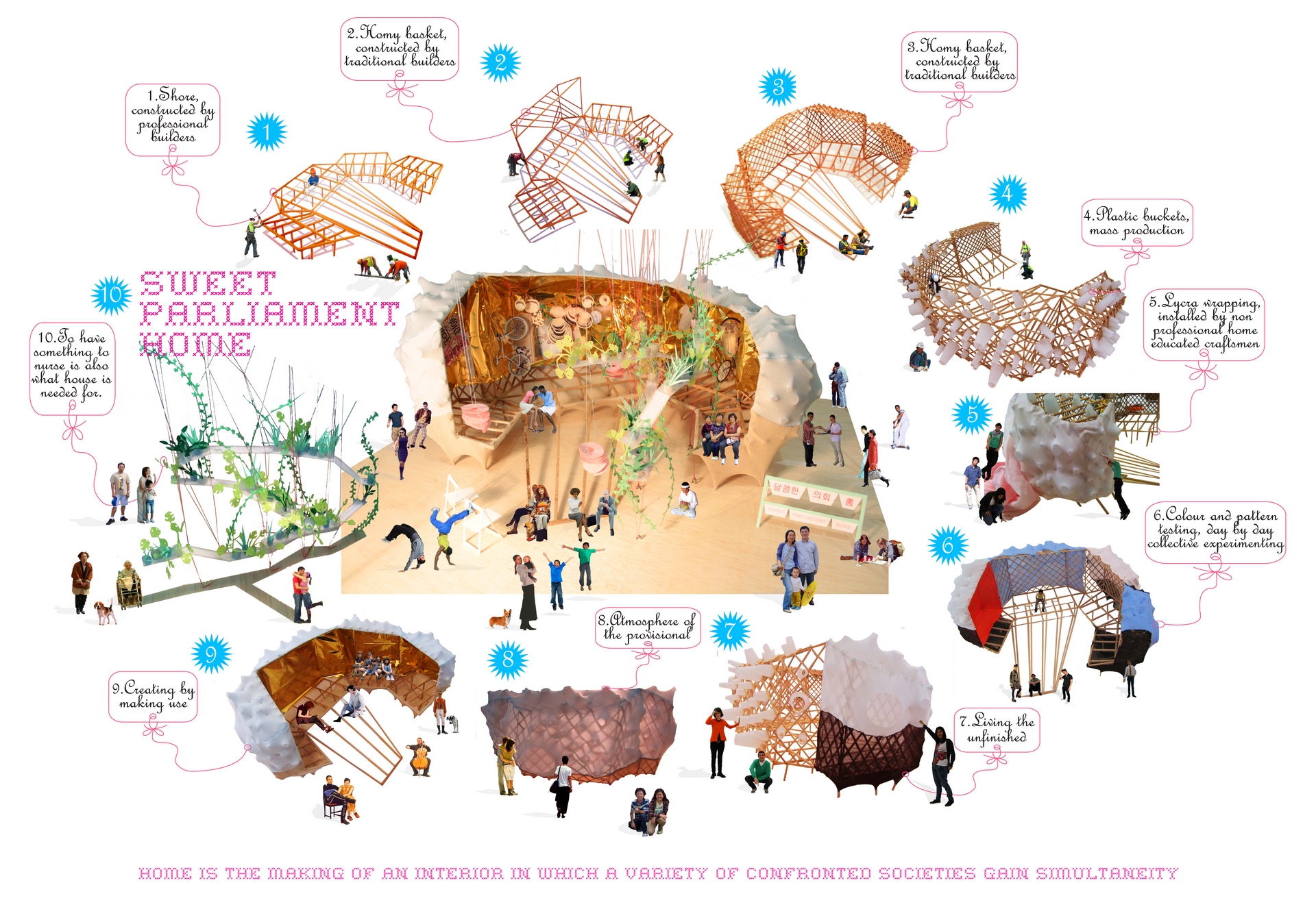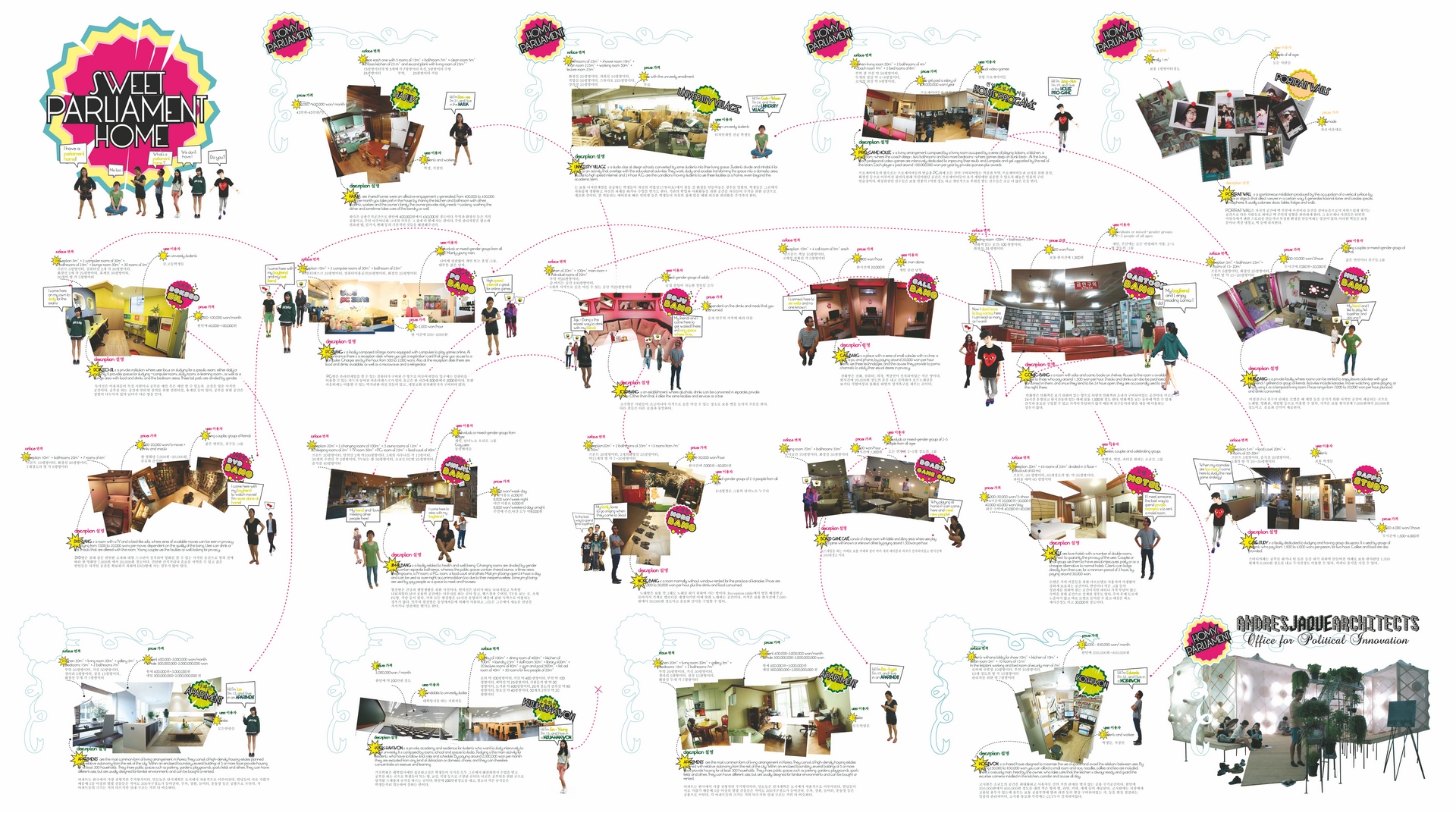 About the project
Gwangju Design Biennale 2011
2011
Manifesto for a Sweet Domestic Seoul
Domesticity in Seoul is no longer something that happens in a single place, the house, but rather something that is constructed by connecting different spaces spread throughout the city. Home is not spatially fixed, unitary, and consistent; it is discontinuous, fragmented, and constantly changing.
Seoul is the strategy to segregate social realities to make daily life un-political. But every depoliticizing strategy gets its response. A number of urban home fragments act as parliamentary spaces where diversity is confronted. These are the fragments the project takes into account and prototypes. Discussion can happen in a warm space based on affection. This is our proposal: To bring politics and conflict into ordinary life.
Homes tend to be thought of as places where conflict, diversity, and the public are left behind to find familiarity and a non-political calm. But a number of daily evidences could be seen as an opportunity to think of domestic interiors as places where we get to meet social networks (both online and offline) to manage our associations and to take part in discussion arenas. Shared homes are parliaments in which we get to share our living, get connected, and encounter otherness. Homes are material and non-material conglomerates of problematic limits.
Sweet Parliament Home is the making of a politically-activated home. It is a result of five years of research by Andrés Jaque Architects on domestic interiors as being political. This idea of home is one in which domesticity lives with the unfamiliar and in which home is made for activism, controversies, and institutional discussion. It is the making of public homey space. Four rooms, available to be used by specialized groups, converge into a common area. The common area works as a calculation device in which differences between groups are made explicit through confrontation; but this confrontation happens around a tended garden, providing the disputes with an affective constitution.
Urbanism has been formally a practice that divides its development into a big hierarchy of scales. It is only when opportunities to both describe and project it as a "foam" of engaged domesticities arise that notions of collectiveness are incorporated and promoted.
Credits
Andrés Jaque / Office for Political Innovation
Prototype Desing
Developed by Andrés Jaque Architects in its Madrid office.
DagmarStéeova (architect, Project responsable)
Álvaro Carrillo (architect)
Roberto González (editor)
Jorge López Conde (architect and photographer)
Kristian Ly Serena (architect)
Silvia Rodríguez (sociologist)
Prototype Construction
Álvaro Carrillo (architect)
Andrés Jaque (architect)
DagmarStéeova (architect)
Eugenio Fernández Sánchez
ChoiHun-In 최훈인
Jung Ji-Eun 정지은
Landscape
Iván López Munuera
Research
Directed by Andrés Jaque [Universidad Europea de Madrid] and Marc Brossa [konkuk University, Seul] Álvaro Carrillo Eguilaz, ChoiHun-In 최훈인, Paula Currás García, Kim Da-Hyun 김다현, LimGoh-Woon 임고운, Gu Min Ju 구민주, Jung Ji-Eun 정지은, Kim Doo-Ee김두이, Eugenio Fernández Sánchez, Déborah López Lobalo, Montserrat Montoro Pastor, Ana Olmedo Alguacil, Eduardo Tazón Maigre, Enrique Ventosa Pedrosa
Video Manifesto (http://vimeo.com/28586784)
Paula Currás García, Ana Olmedo Alguacil, Enrique Ventosa Pedrosa
Directing Team
Paula Currás García, Ana Olmedo Alguacil, Enrique Ventosa Pedrosa
Actors
Kim Da-Hyun 김다현, LimGoh-Woon 임고운, Eduardo Tazón Maigre, Jung Ji-Eun 정지은, Gu Min Ju 구민주
Publication
Gu Min Ju 구민주, Kim Doo-Ee김두이, Déborah López Lobalo, Montserrat Montoro Pastor, Eduardo Tazón Maigre
Discussion Curator
Enrique Ventosa Pedrosa