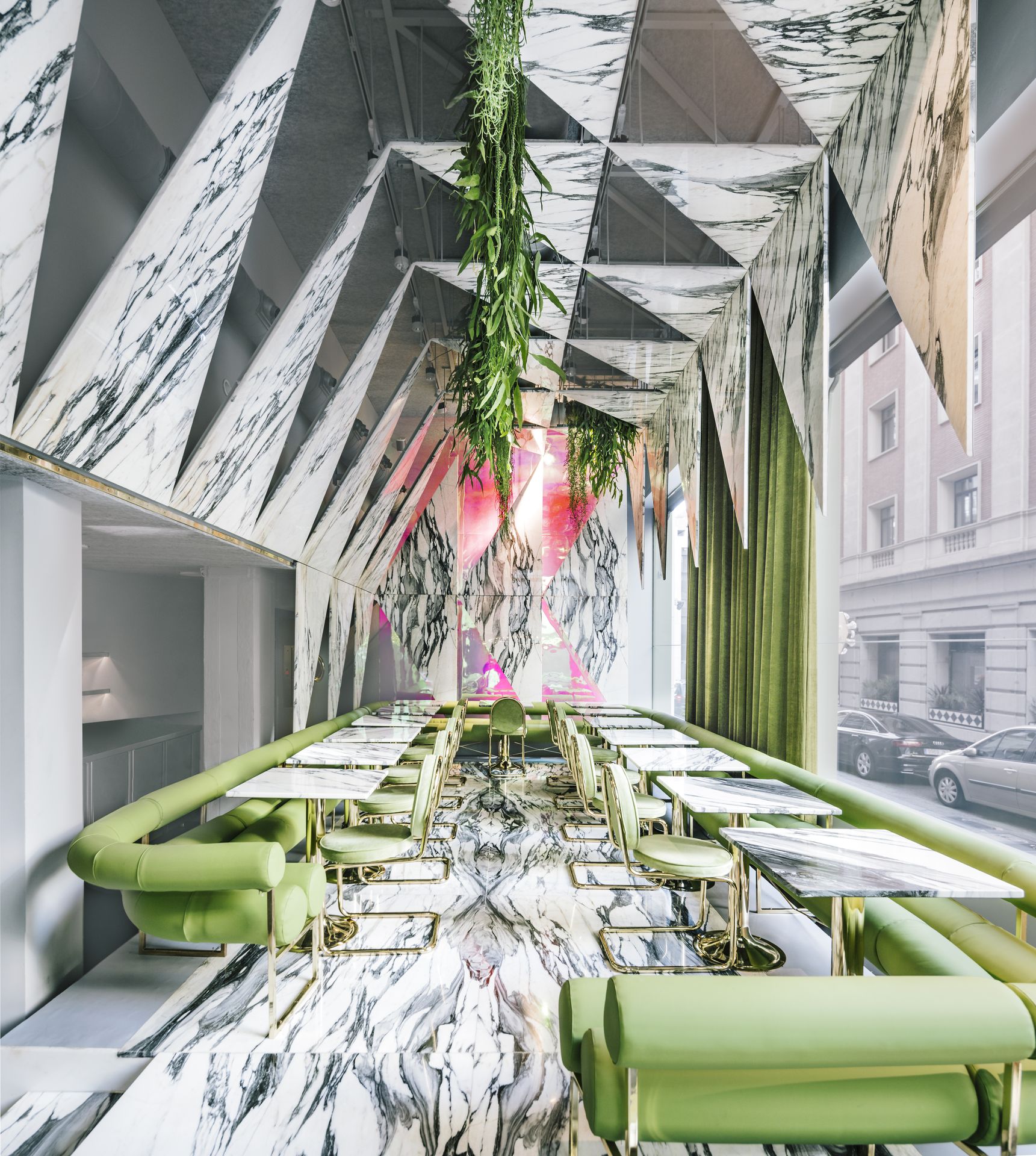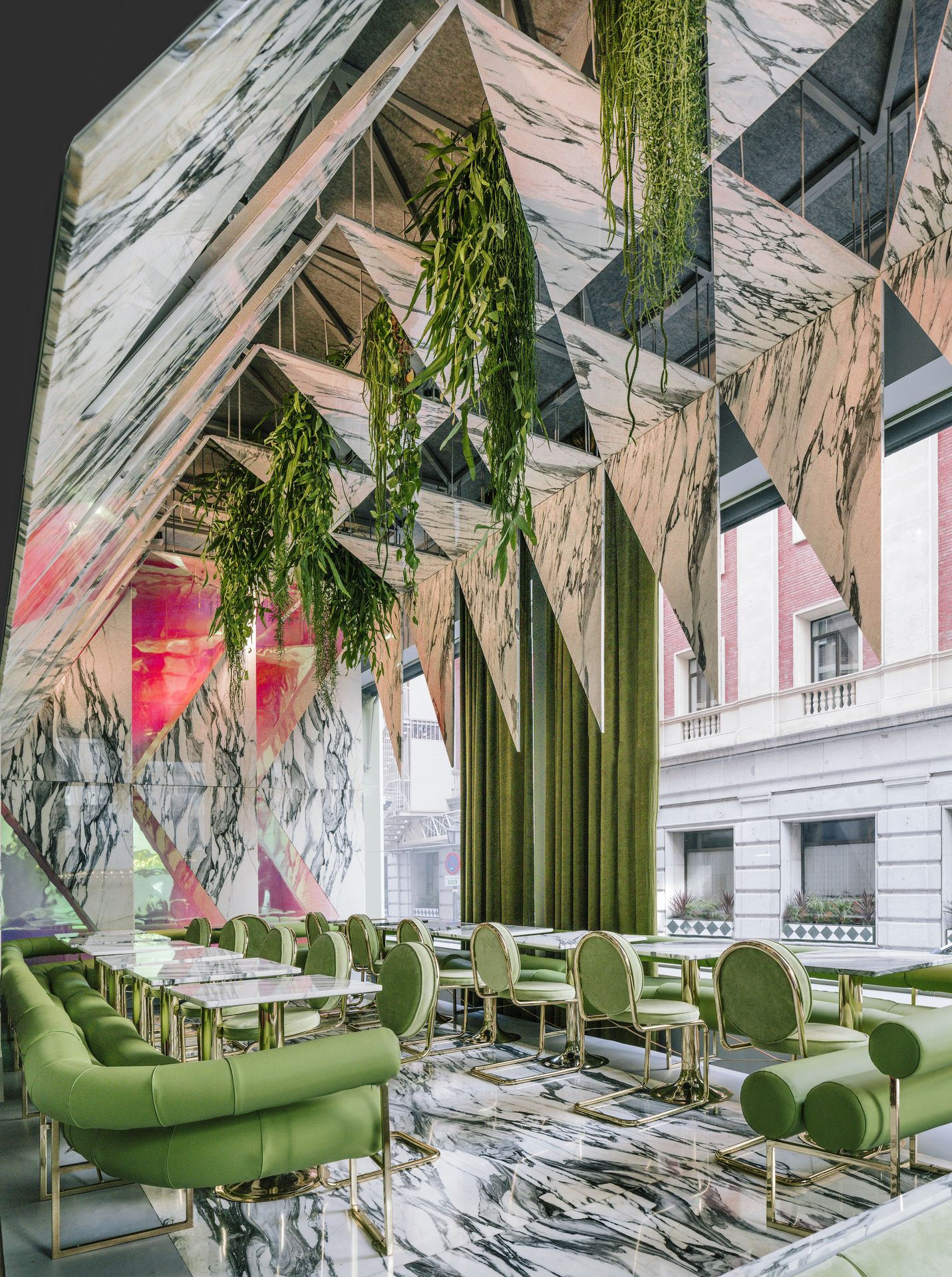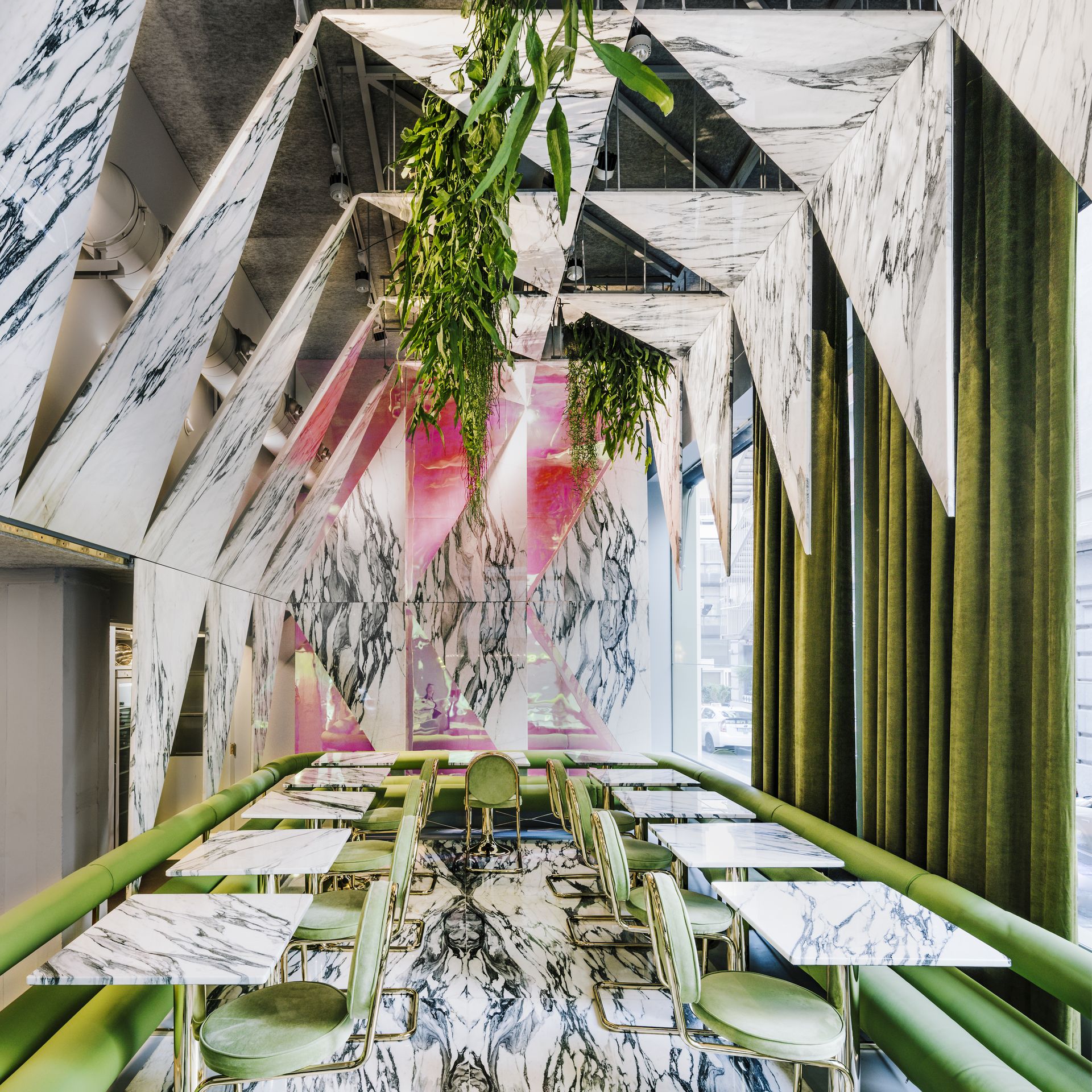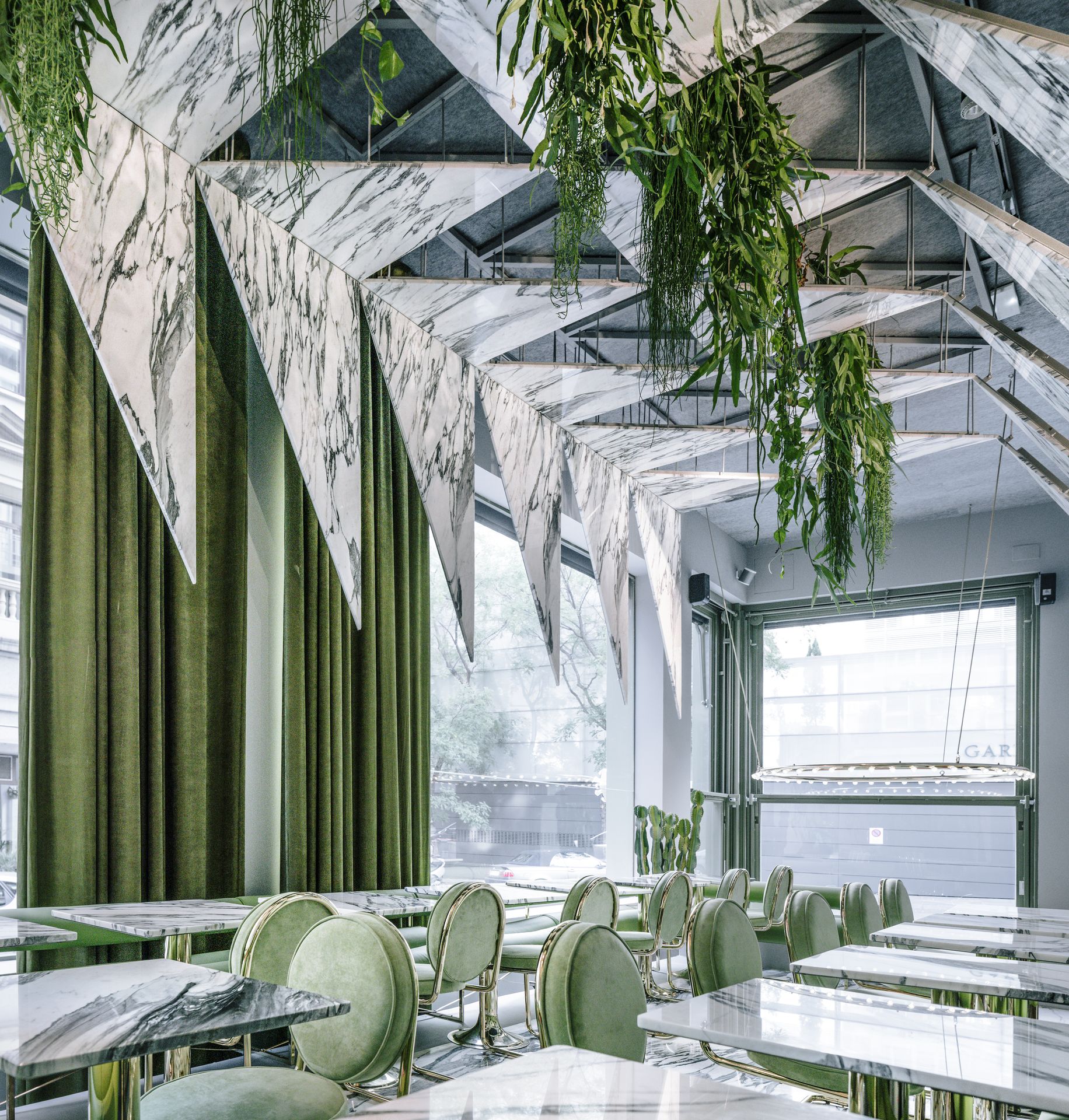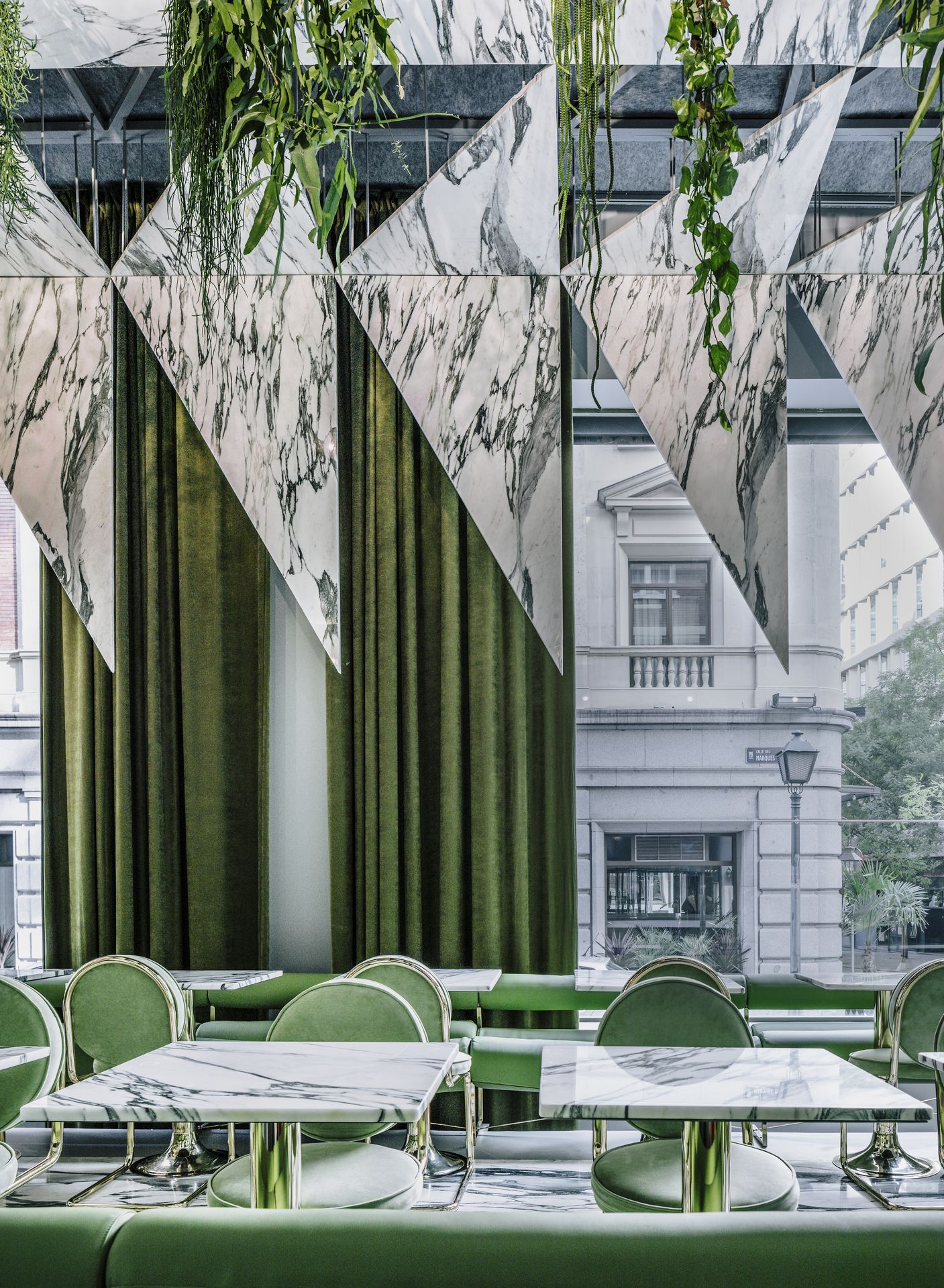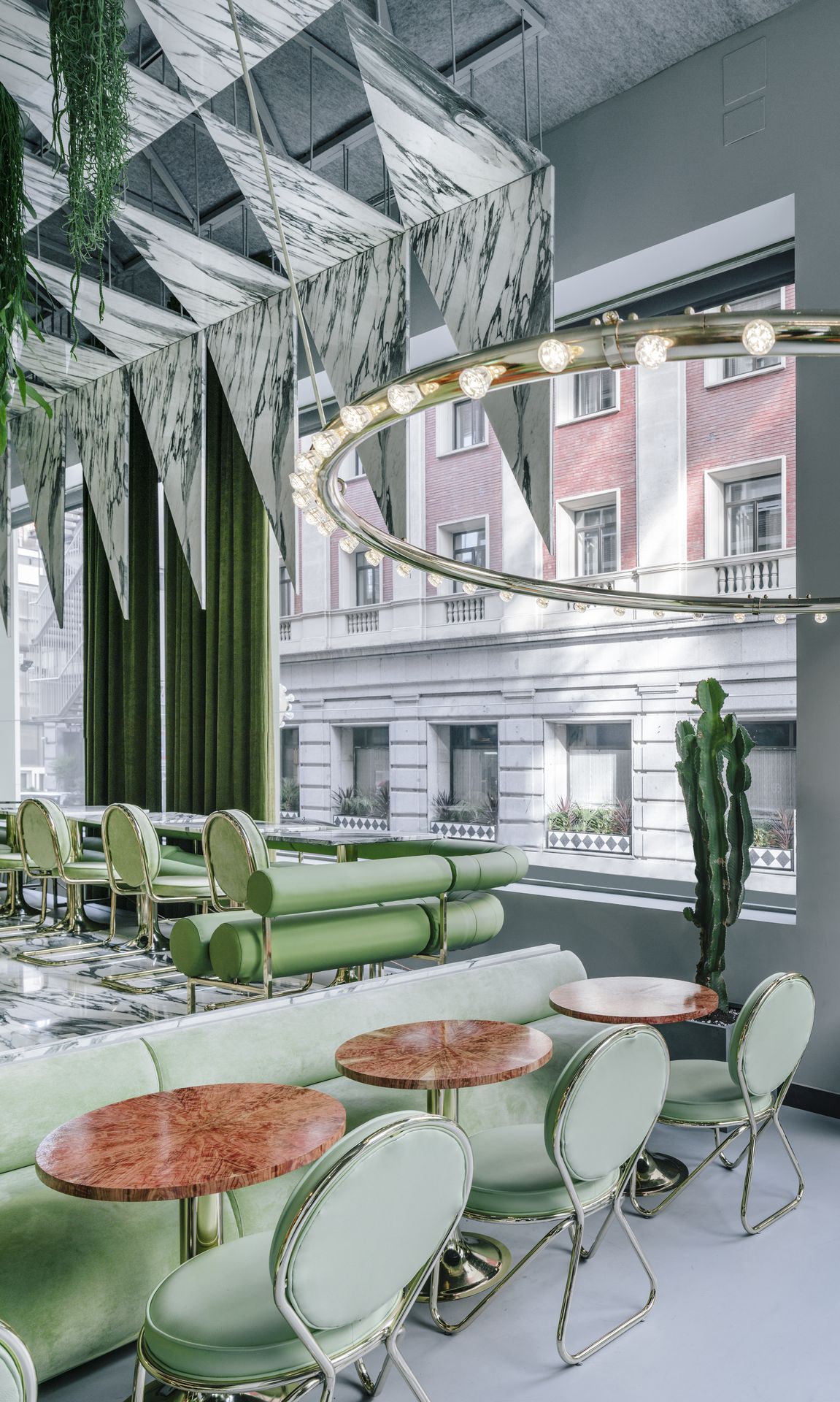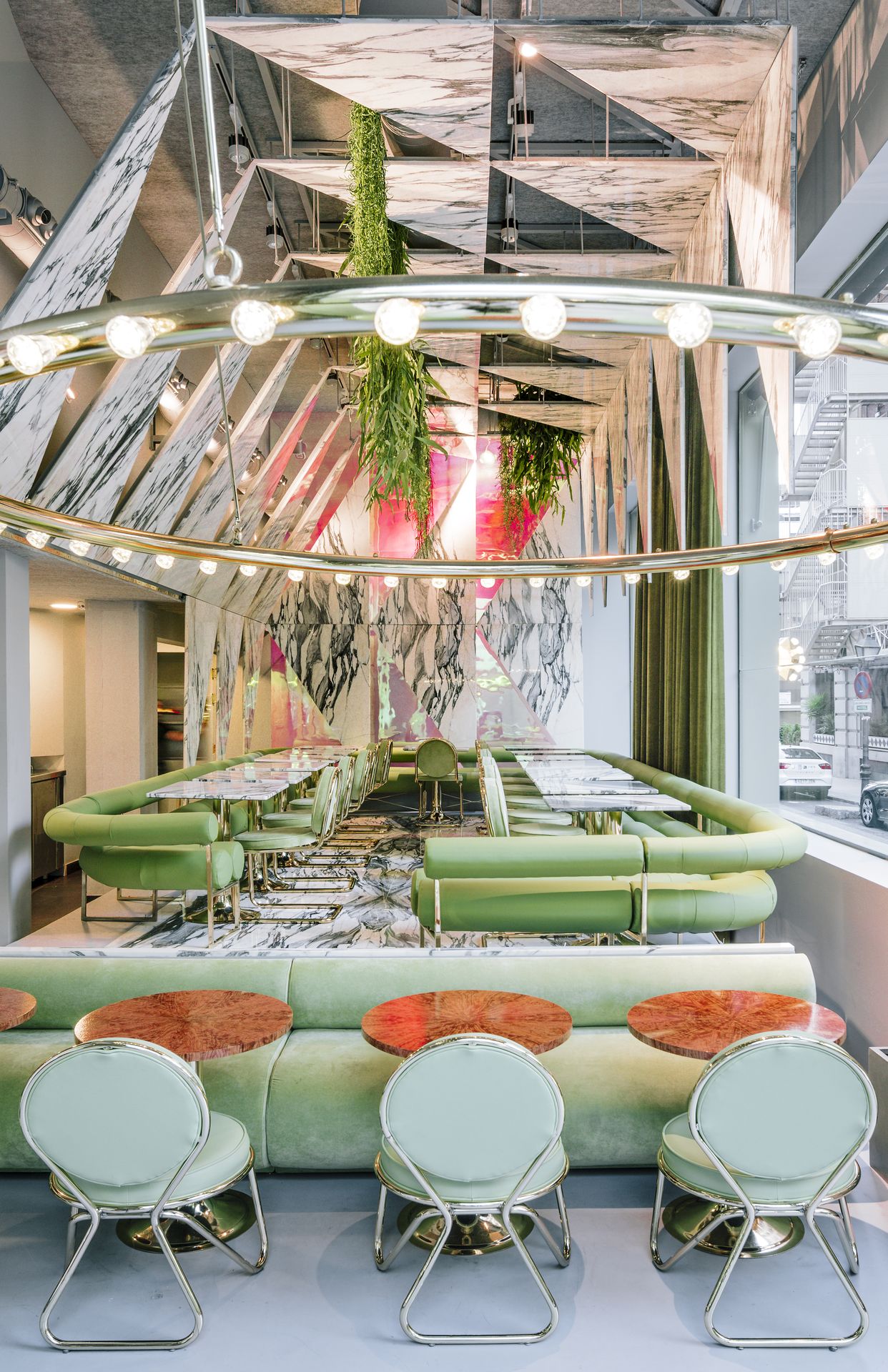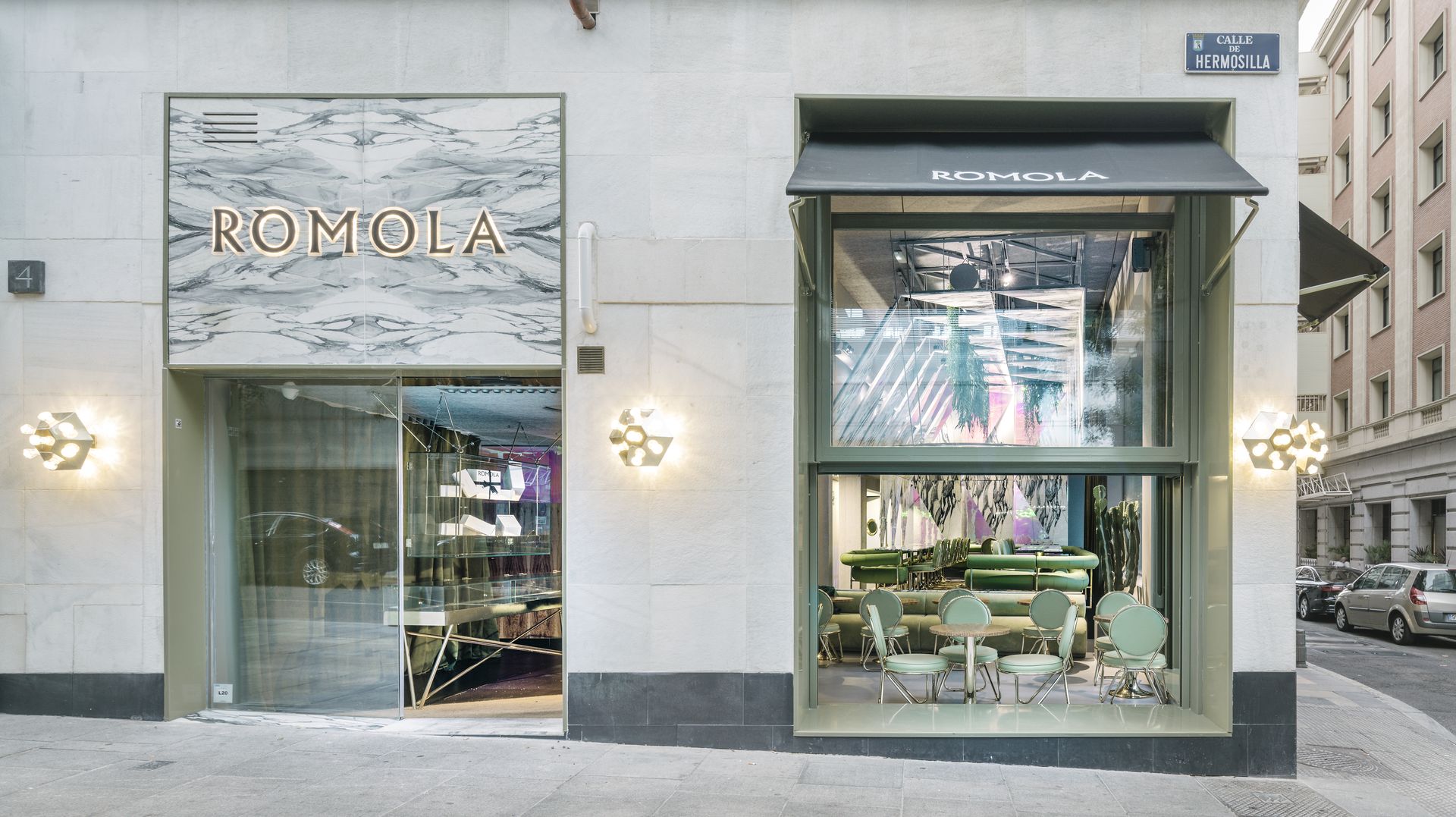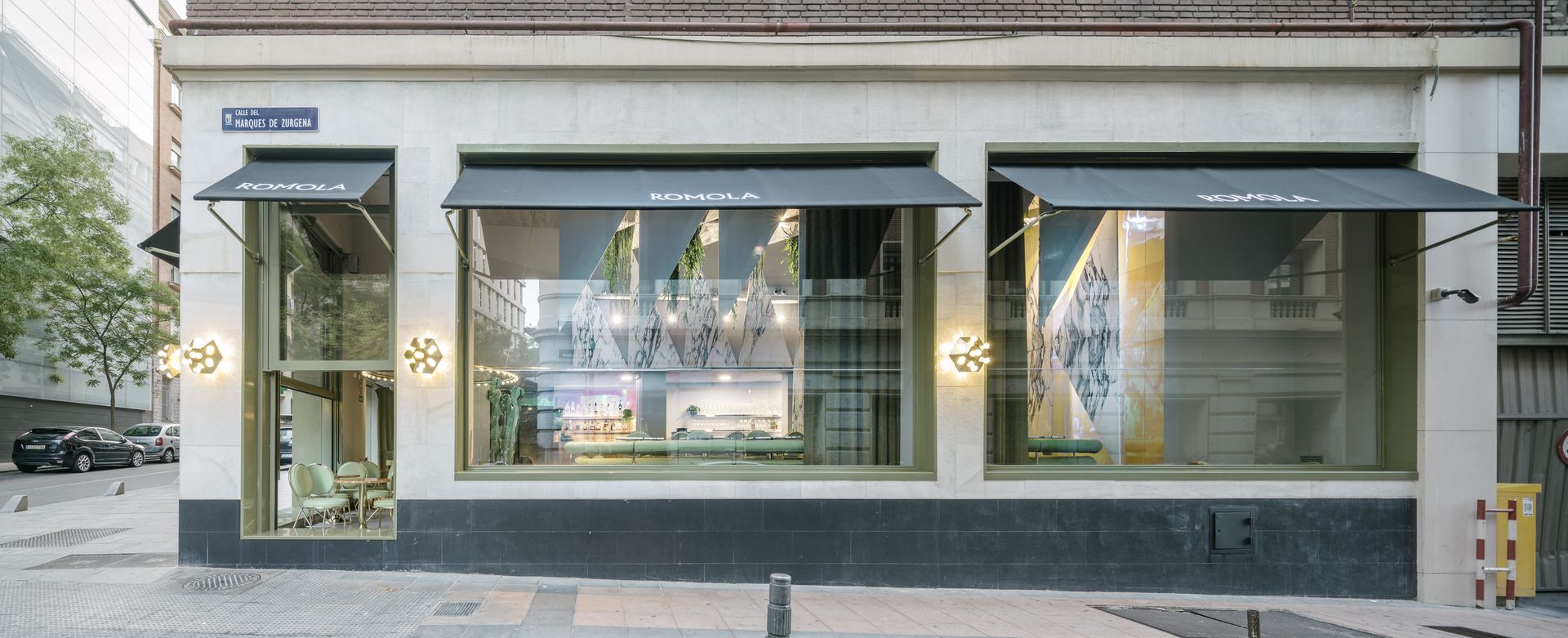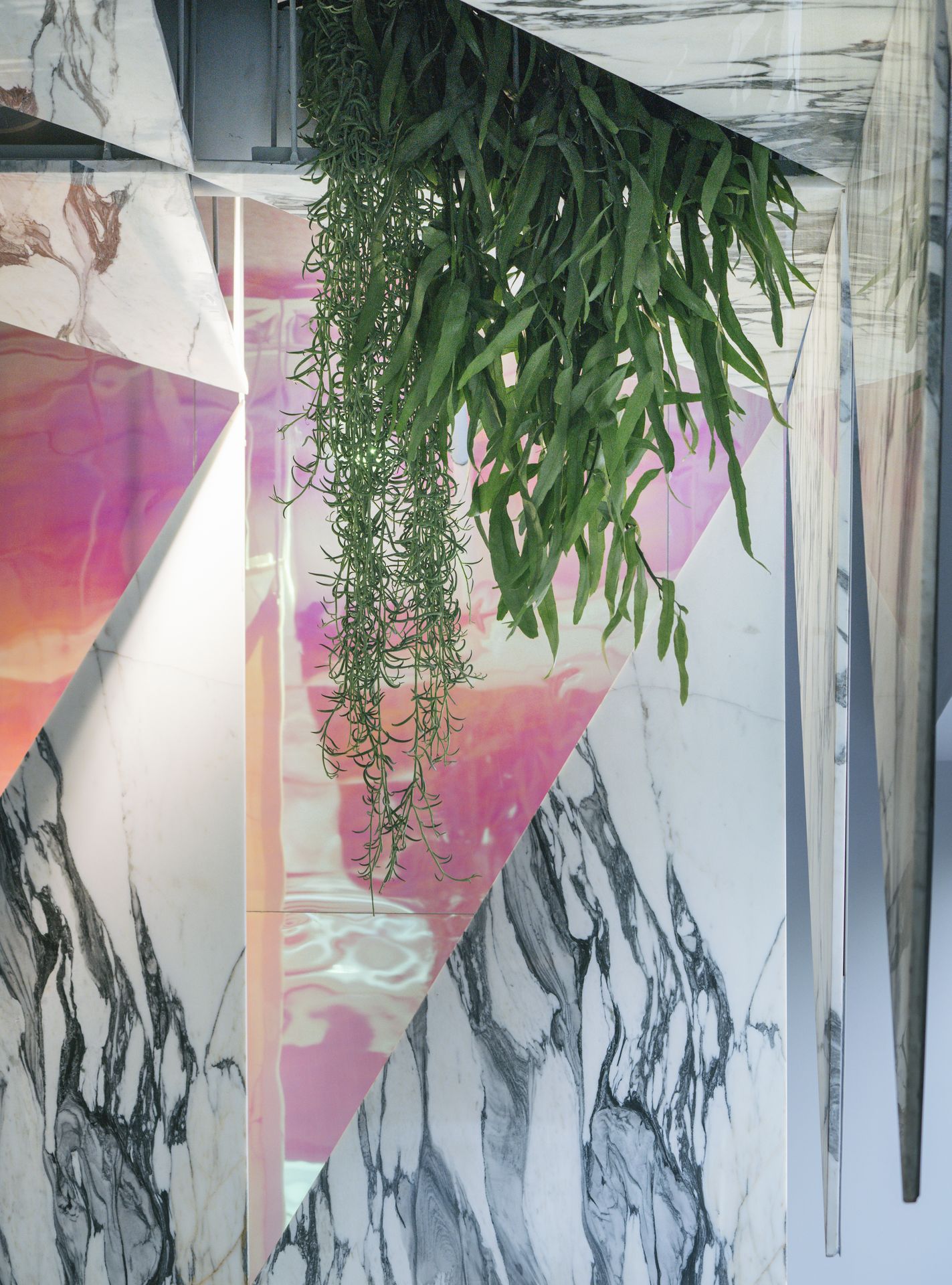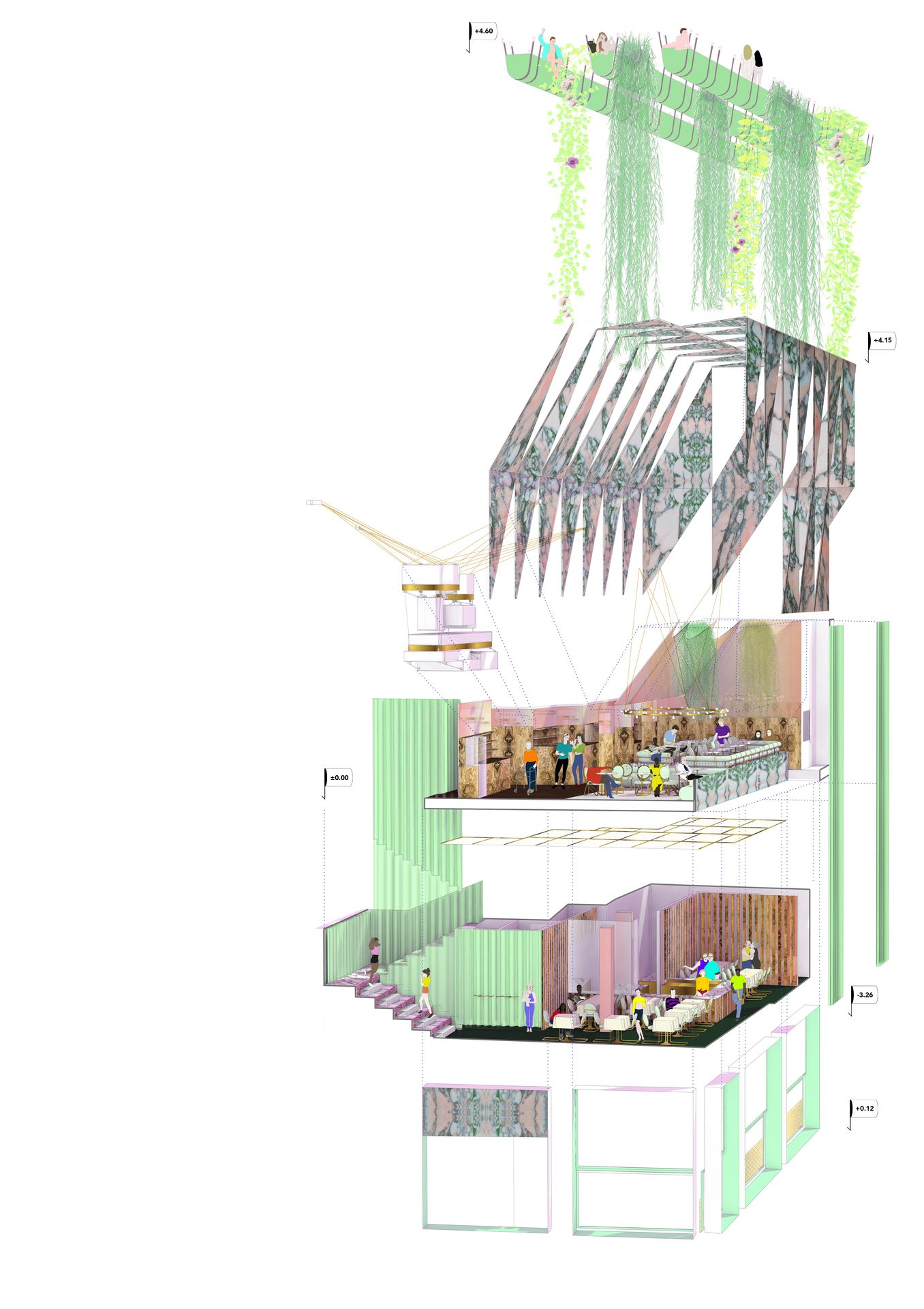 About the project
Madrid
2017
Awarded 2018 Europe Best Restaurant Design
RÒMOLA. A Marble-Made Tent in the Galaxy
This project transforms the former 1946 garage of Gutierrez Soto's most significant building, located in the geographical center of Madrid, into an assembly of bakery, café and experimental restaurant. The original volume and structure of the building is recovered, leaving a 5-meter-high space with massive openings onto the streets.
"Zahara is a mix of desert, coincidence and cafetería"
Pedro Almodóvar, La mala educación.
Since 2008, architecture in Madrid has suffered the hegemony of low-wage-based corporative franchises that have concluded a slow invasion of the city. Within nine years, this process has marginalized and set close to extinction the whole material and human context of marble, leather, gold-chrome-plated metal, and rare woods paneling craftwork that has, since the 1960s, been the social base in the development of the network of Madrid's cafeterías: shining, comfortable places where anonymous service is provided and where this service, delivered with equal and standardized courtesy to everyone, has quickly turned them into spaces where women and LGBTQ communities. This project is the result of a strategy to work with a small number of super-qualified marble manufacturers, leather upholsterers, metal benders and chrome-platers, rare-wood panelers and artisan varnishers behind the material production of Madrid's cafeterias by taking their capacities a step further: to reintroduce into the city's ecosystem the counter-austerity dissident space of the independent cafetería as a resistance to corporative hegemony.
A marble-made tent in the galaxy. Taking advantage of supermarble's capacities to resist traction.
In the 1990s and 2000s the tiny town of Novelda (Valencia) became the hub for a transnational flow of rare marbles. Now inactive, the town's extensive pools of accumulated dusty marbles, onyx, and granites from around the world can be seen as an archeology of pre-austerity times. Whereas brick and hydraulic tiles are stock in a discourse of false authenticity, groundness and faked localism; Novelda marbles now embody a refreshingly contingent value. This ungroundness condition of the marbles is registered by a number of technologies attached to it, such as the glass fiver and resin reinforcements, articulated anchoring systems, intended to render marble as a sort of supermarble, capable not only of resisting compression but also traction. In what has been a unique engineering challenge, the project takes this capacity to its limits, by creating a supermarble-made self-standing tent. The tent accommodates the customers' tables and allows other uses (including cooking) to being organized in a C-shaped periphery around it
Credits
Andrés Jaque / Office for Political Innovation
Team
Laura Mora Vitoria, Roberto González García, Paola Pardo, Víctor Cano Ciborro, Nieves Calvo López, Marina Fernández Ramos, Marta Jarabo Devesa, Danay Kamdar, Pablo Maldonado, Solé Mallol, Valentina Marín, Flavio Martella, Víctor Nouman García, Danae Papaevangelou, Larissa Reis, Isabel Sánchez del Campo, Belverence Tameau, Borja García Lázaro.
Structural Consultancy:
Mecanismo. Ingeniería de Estructuras (Juan Rey, Jacinto Ruiz)
Service Design Consultancy:
DITEC. Diseño y Tecnología Ingenieros Consultores
Quatity Surveyor:
Alfonso Sáenz
Safe & Security Coordinator:
José María Gutiérrez
Photography:
Miguel de Guzmán y Rocío Romero. Imagen Subliminal