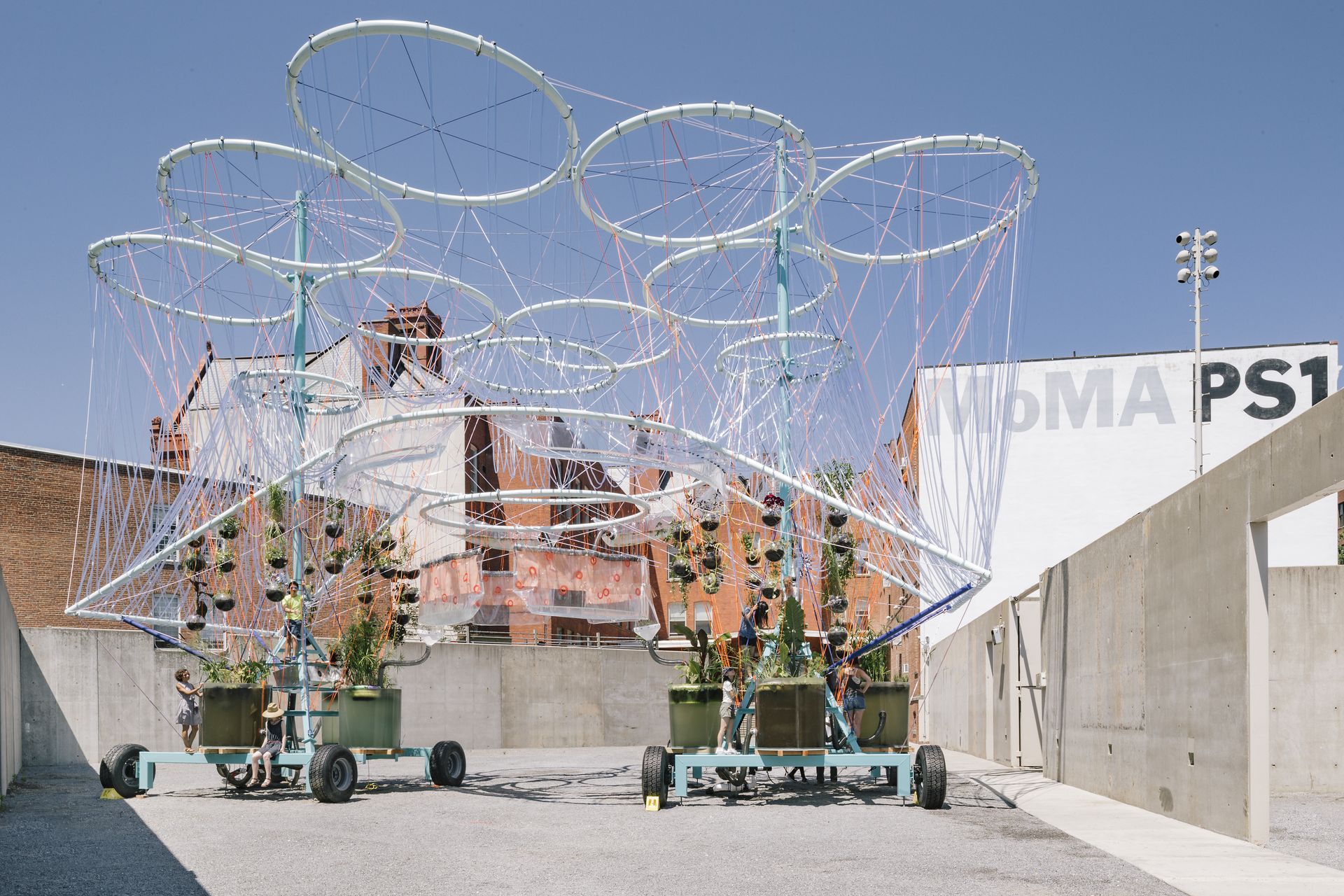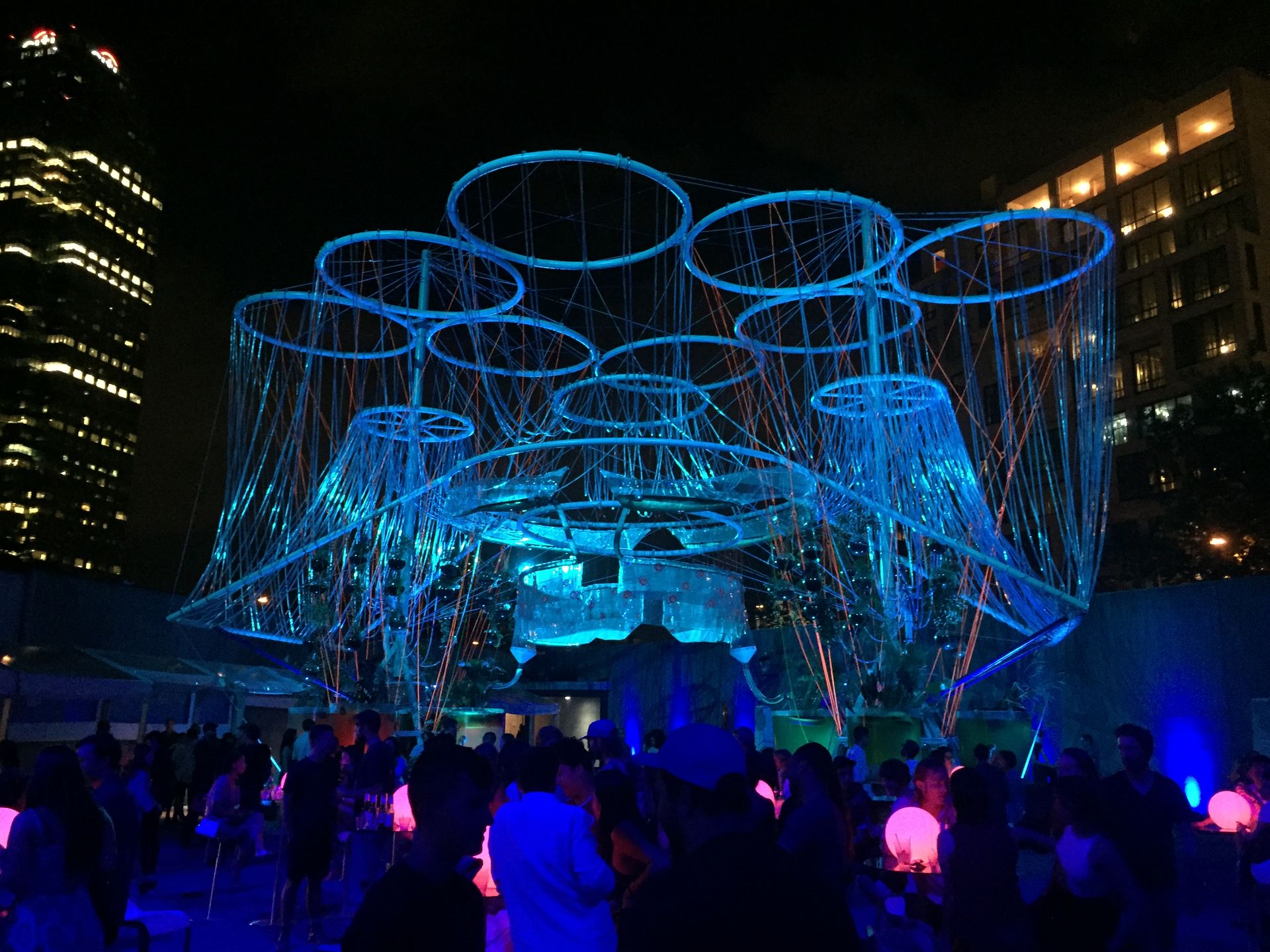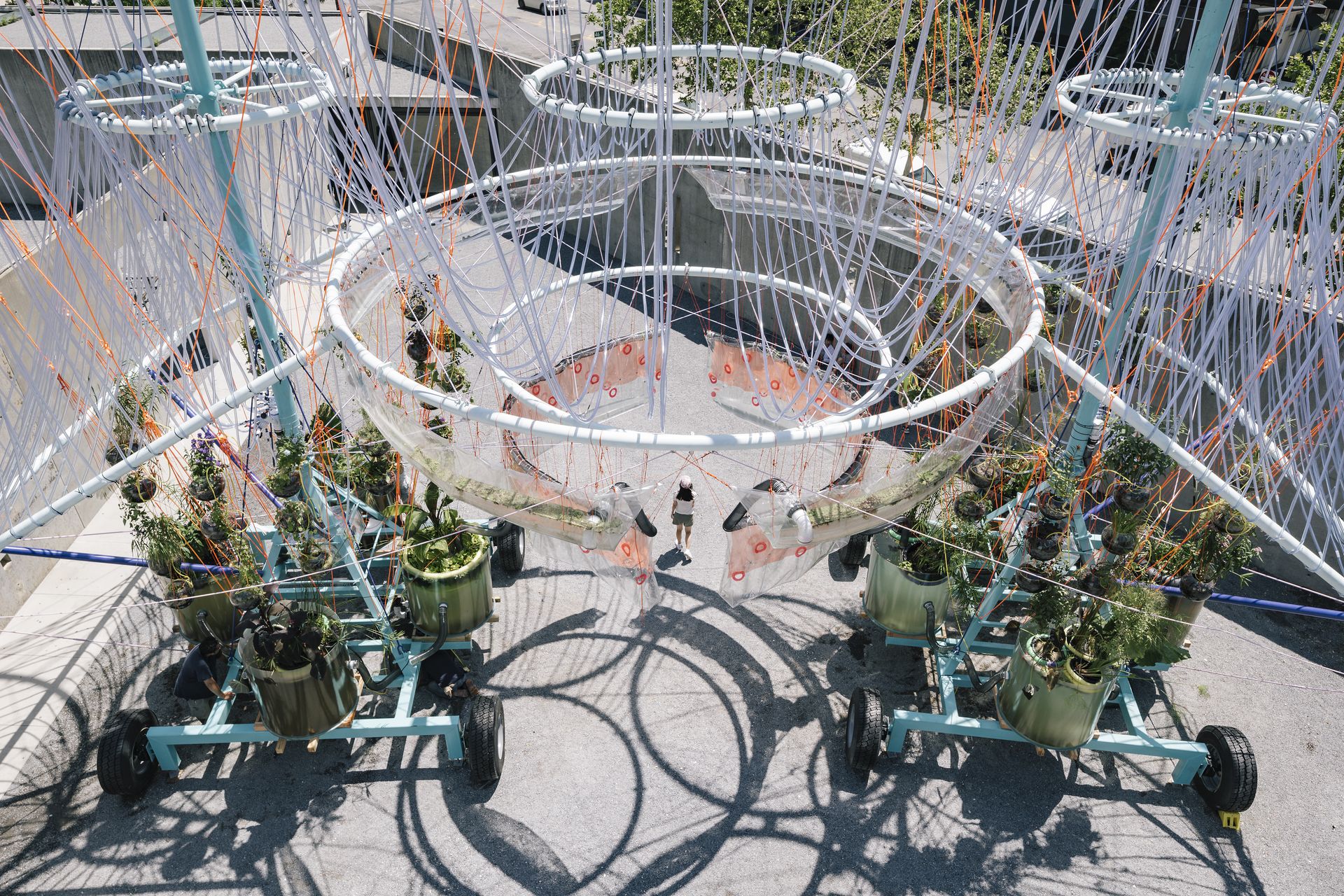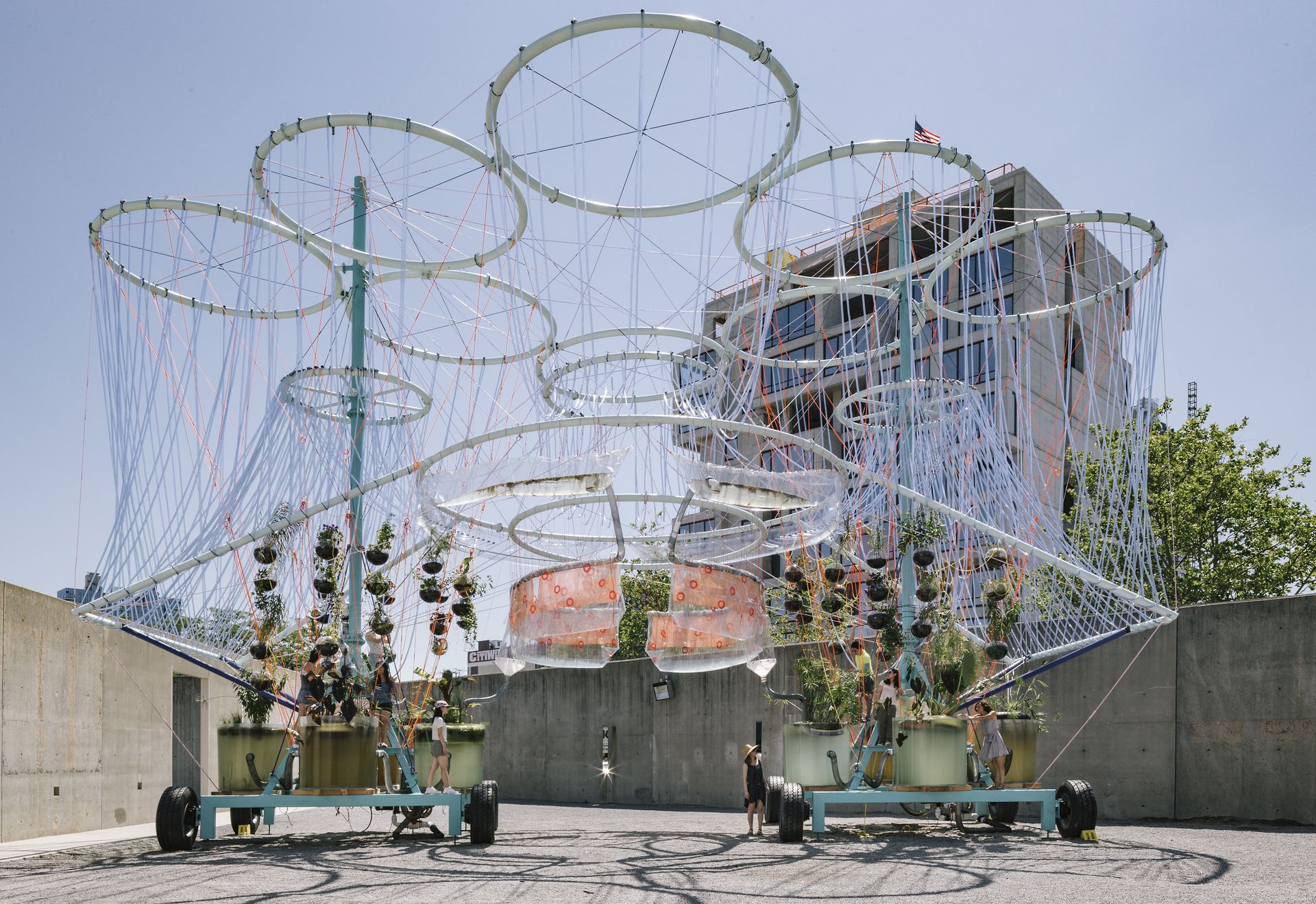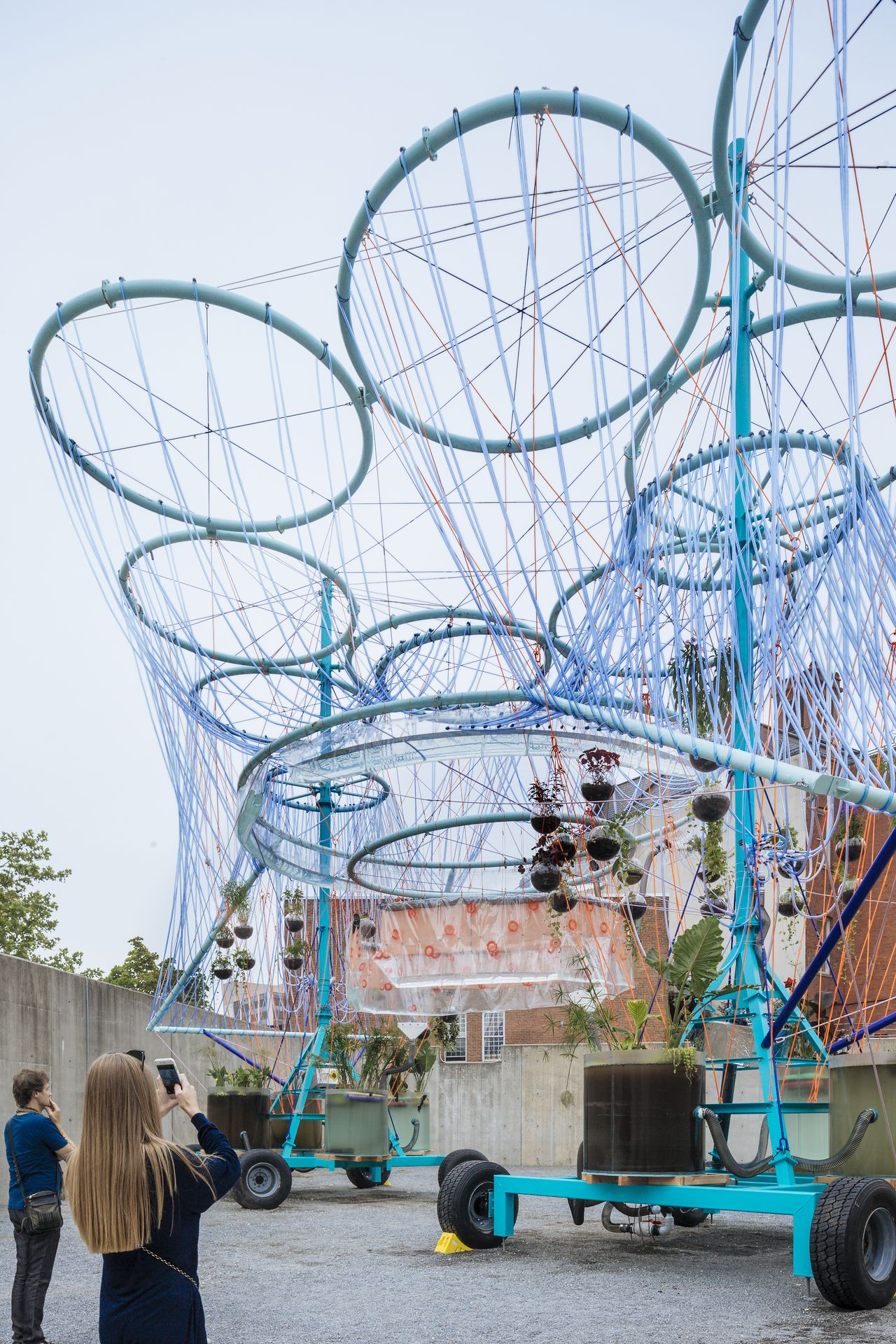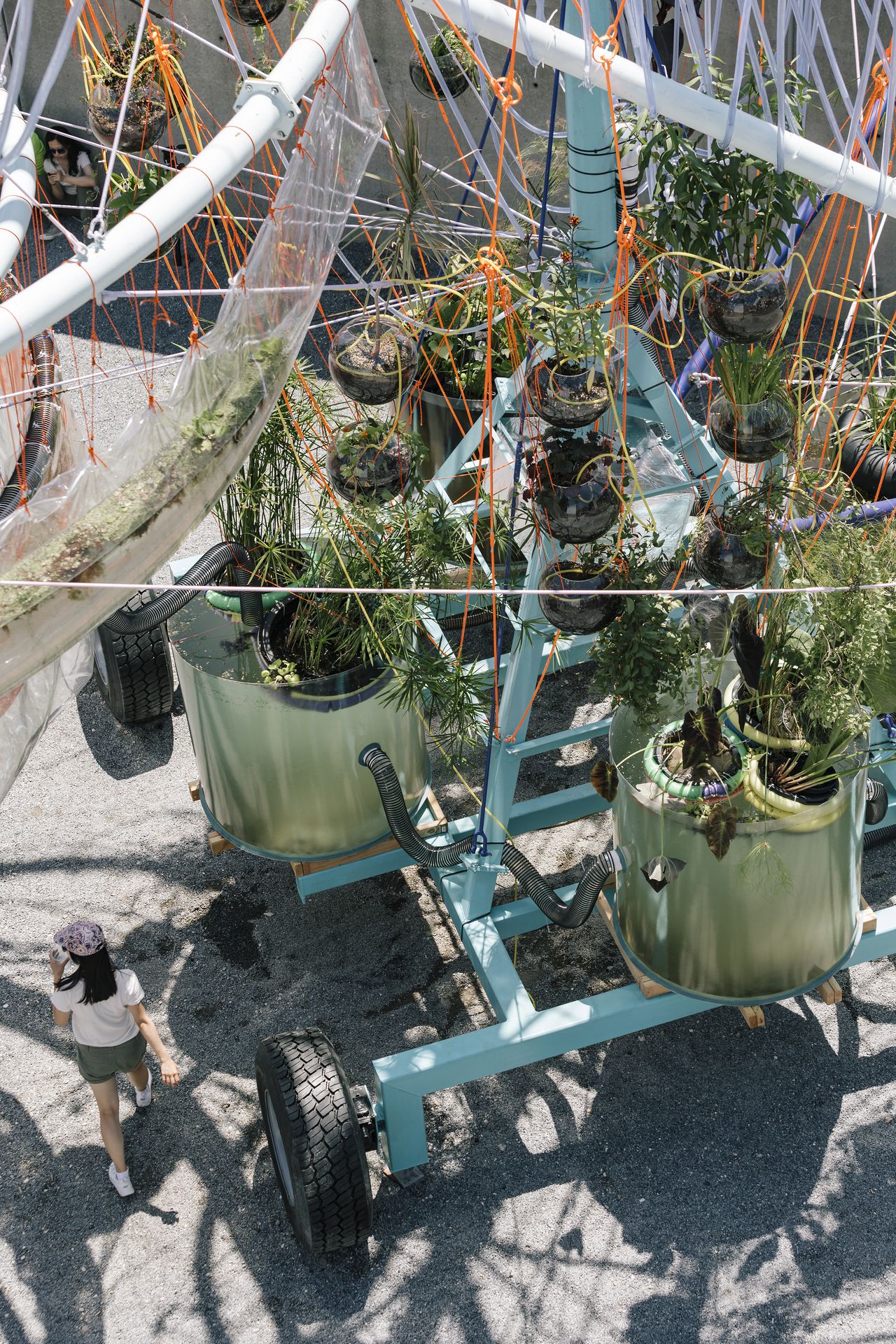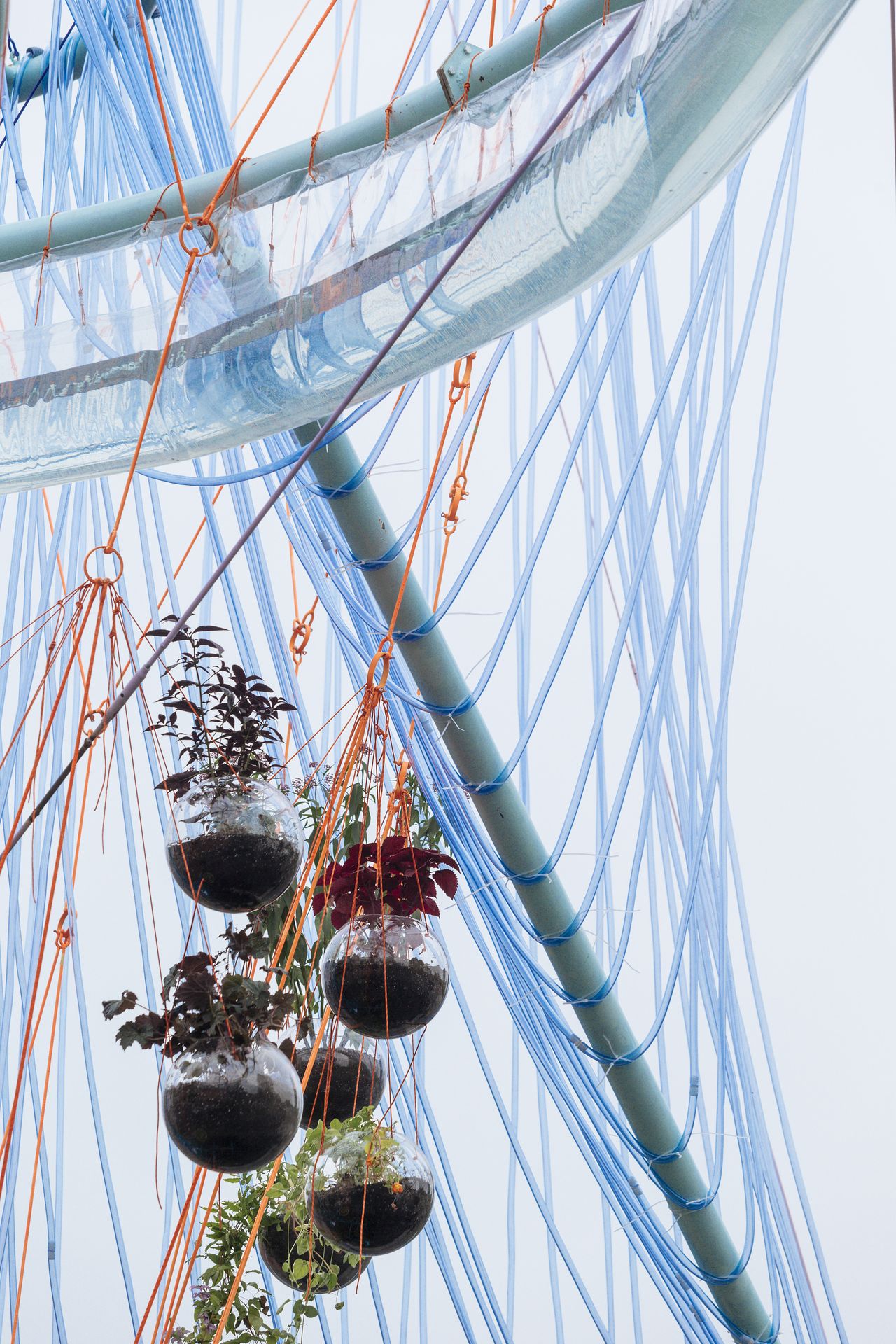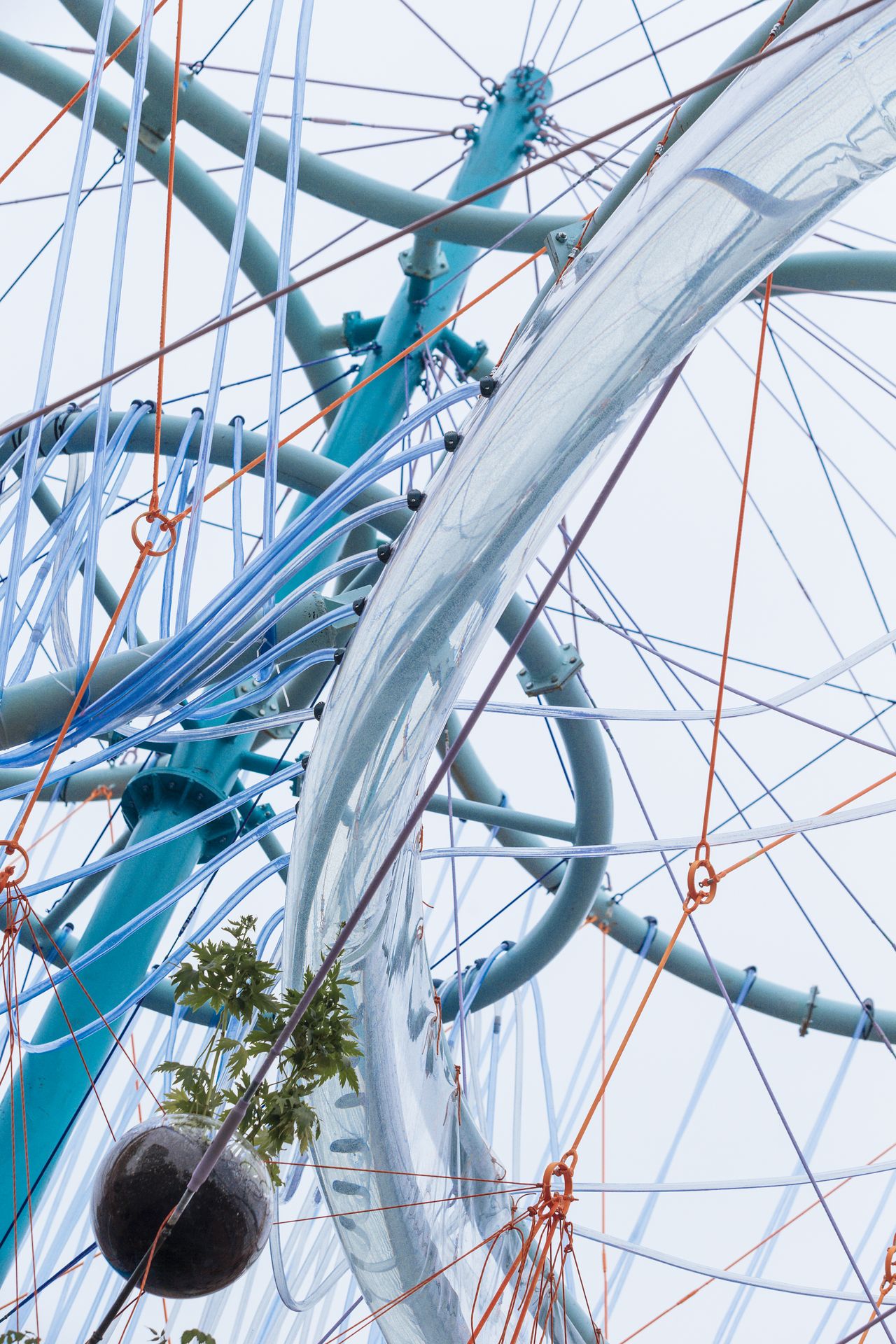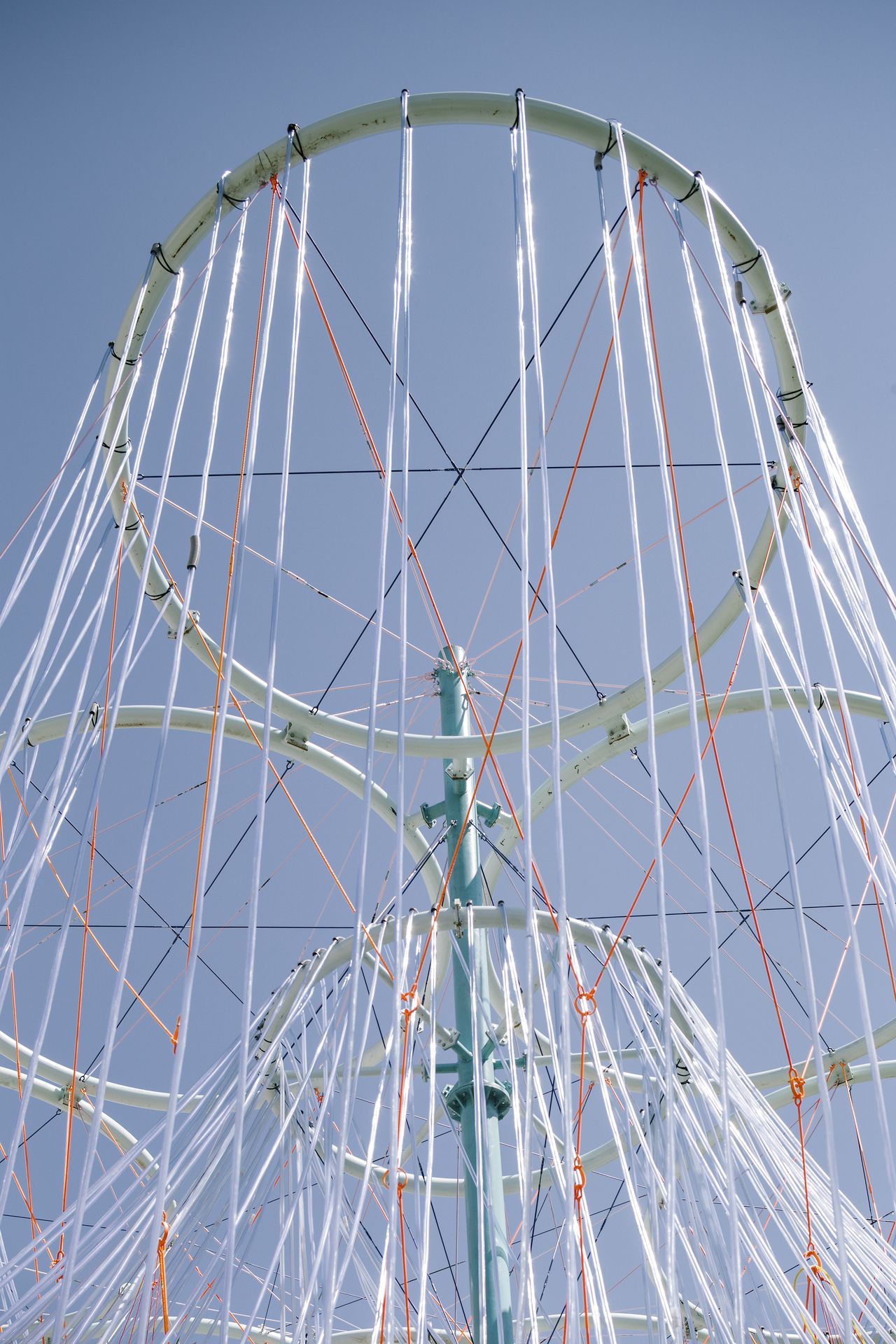 About the project
New York
2015
COSMO MoMA PS1 was the winner of the 2015 Young Architects Program. It was constructed as a probationary device to experience the cultural and political value of replacing the pursuit of purity, by designed co-inhabitance with toxicity.
COSMO is a movable artifact, made out of customized irrigation components, to make visible and enjoyable the so-far hidden urbanism of pipes by which New York City exists. COSMO is an assemblage of ecosystems based on advanced environmental design, engineered to treat 3,000 gallons of water by metabolizing suspended particles and nitrates, balancing PH, and increasing the level of dissolved oxygen. COSMO operates as both an offline and an online prototype. Though the COSMO app, it is possible to follow the evolution of the water in the device, to learn the insight needed to construct similar devices, and to connect with the community of experts that participated in its design.
COSMO is a party-artifact designed as a pleasant and climatically comfortable garden. As the result of a complex biochemical design, its stretched-out plastic mesh glows automatically whenever its water becomes drinkable.
Credits
Andrés Jaque / Office for Political Innovation
Winner of YAP MoMA PS1 2015
Team:
Andrés Jaque, Patrick Craine, Jocelyn Froimovich, Roberto González García
Laura Mora, Sebastian Bech-Ravn, Yannan Chen, Ilgaz Kayaalp, Nicolò Lewanski, Jorge López Conde, Senne Meesters, Laura Mora, Jorge Noguera Facuseh, James Quick, Jarča Slamova.
Research on the politics of water:
Iván López Munuera
Research on urban infrastructures and water in New York:
Esteban de Guido de Backer
Structure Engineering:
BAC Engeneering and Consultancy Group (Xavier Aguiló i Aran, Rodrigo Martín, Jaume Vallès, Hugo Díez)
Ecosystem Design:
Asepma (Jochen Scheerer)
Hydraulic Engineering:
ARUP (Sebastian Lopez, David Dubrow)
Electrical Engineering:
ARUP (Michael Incontrera)
Lighting Engineering:
Antonia Peón-Veiga
NYU Department of Interaction Science:
Arlen Bitsky,Ernie Gerardo, Hovsep Agop, Oskar Noam, Anneka Goss, Charles Deluga, Omayeli Arenyeka, Leslie Martinez, Sriya Sarkar, Nadia Palachkina, Dana Karwas
Models, web platform and app:
Joaquín García Vincente, Anna Melgarejo, Miguel Mesa del Castillo, Tatiana Poggi, FABLAB Proyectos Arquitectónicos de la Universidad de Alicante, Ad Hoc
Photography Director:
Imagen Subliminal (Miguel de Guzmán)
Audiovisual production:
Bollería Industrial (Paula Currás, Ana Olmedo, Eugenio Fernández Sánchez, Enrique Ventosa)
Video voice-over:
Lee Buckley
NYC Department of Environmetal Protection:
Corinne Martin, Kim Estes-Fradis
Ecosystemic Production:
Michelles Hofet, Valerie Lechene, Abreu Lucas, Rennie Lauren Jones, J. P. Buonocore, Yoonseok Lee, Michelle Ida Kleinman, Yannan Chen, Jiaying Fan, Dihua Yan
Botanical Advise:
Queens Botanical Garden (Rebecca Wolf)
Gardens and Ecosystems:
Balmori Associates, Camilla Hammer, GRNASFCK, Julia Frederick, Patio Interior and Marc Pascal, Regina Galvanduque and Andrés Mier y Terán, wHY , Paula Livingstone, Sofia Armanet, Verdant Gardens
Advise:
Storefront for Art and Architecture, Pepe Cobo Gallery, Queens Botanical Garden