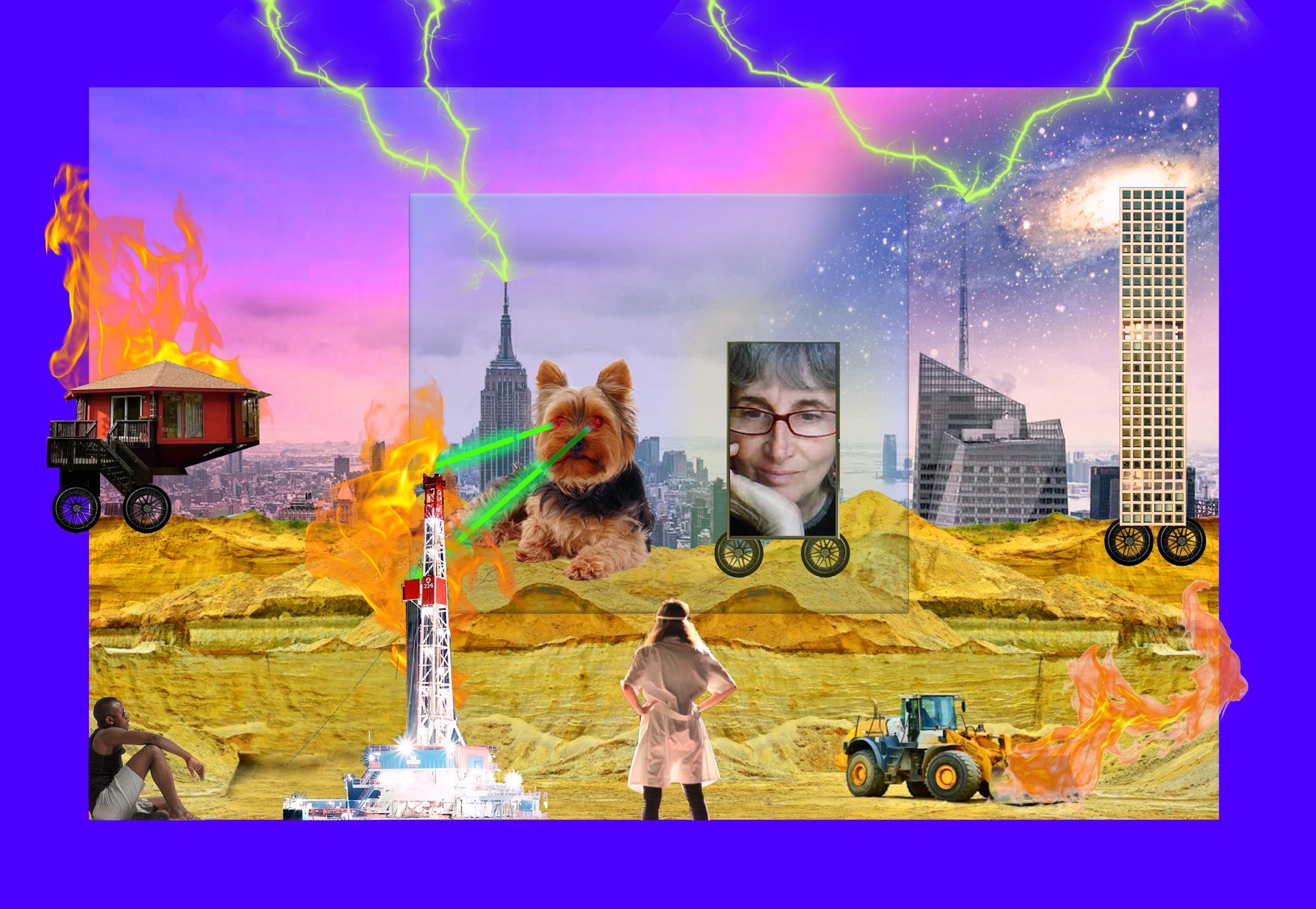 About the project
51-minute multimedia performance on top of the Rockefeller Center, New York.
Commissioned by Performa Biennale 2021, performed on October 29th, 30th and 31st at 6 am EDT
For architect, writer, and curator Andrés Jaque, architecture is first and foremost a political activity, with every aspect of the discipline shaped by conflicts, negotiations, and compromises between stakeholders—whether city council representatives, real estate developers, construction workers, actual or prospective residents, squatters and bystanders. Since he moved to New York in 2010 Jaque, with his Office for Political Innovation, has built a body of work that examines the invisible networks which structure the city: from nail salons administering the social lives of their often undocumented employees to neighborhood funeral parlors competing to create personal bonds with local families in order to keep business afloat. Jaque's new performance for the Performa 2021 Biennial, Being Silica, addresses the codependent relationship between New York City and its neighboring territories encapsulated in UltraClear™ glass, a new building material that became a fixture of new towers across the city in the past two decades.
Unlike standard clear glass which, if viewed from an edge appears green in hue, the edges of UltraClear™ glass are seemingly transparent with a 91% light transmission rate. Made of silica, a low-iron mineral, this new type of glass aligns with Michael Bloomberg's ideals of a pollution-free city, in which skyscrapers residents enjoy expanses of clear blue skies. The highly sought-after Silica, however, is produced through horizontal fracking––a highly toxic process that is banned in New York State.
Being Silica engages with how much the previous major's clean air project for New York happened at the expense of peripheral areas such as Illinois, where silica is extracted, and Pennsylvania, where fracking takes place to produce the energy required to manufacture the new glass. In a 51-minute-long multimedia piece performed for a small group on three consecutive mornings, Andrés Jaque and his Office for Political Innovation invited spectators to physically experience the unsettling sound and vibrations emitted from deep within the earth during the process of fracking. Set in a Manhattan skyscraper, Being Silica invites the audience to draw their attention to what is usually transparent and unexamined: the glass that separates them from the exterior. The performance reveals the complex trail of damage behind technologies of civic beautification. Comprising a sound installation interspersed with conversations with anti-fracking activists, the performance unpacks the intertwinement of political, economic, and social questions in construction today.
'Being Silica' Looks Hard at the Environmental Cost of Supertall Views by Whitney Mallett (Curbed)
Andrés Jaque Discusses His Latest Performance, Being Silica (Metropolis)
Credits
BEING SILICA
51-minute multimedia performance on top of the Rockefeller Center, New York.
Commissioned by Performa Biennale 2021, performed on October 29th, 30th and 31st at 6 am EDT
A work by:
Andrés Jaque / Office for Political Innovation
In collaboration with Paula Vilaplana and José Luis Espejo
With the special participation of Doug CrowGhost, Ray Kemble, Vera Scroggins and Simone TwoShields
Curated by Charles Aubin
Research:
Andrés Jaque
Eno Chen
María Alejandra Linares
Jesse McCormick
Marcos Mouronte
Paula Vilaplana
Scientific Advisors:
Wojciech Gajek
Ryan Schultz
Sound:
José Luis Espejo
Music:
José Venditti
Field Recordings:
Guillaume Capsowl Voisin and José Luis Espejo
Seismic Records:
Wojciech Gajek
Models:
VILAKANG (Chije Kang and Paula Vilaplana)
Text Editing:
Walter Ancarrow
Mariana Fernández
Video Editing:
Romke Hoogwaerts
Studio Recordings:
John Bravebull
Joseph Hazan
Performance Assistants:
Mariana Fernández
Nia Nottage
Executive Producer:
Esa Nickle
Technical Direction:
André Ferrerira
Producer:
Joanna Cohen
Scenic Lead:
JD Fontanella
Audio Engineer:
Vincent Dee
Lighting Technician:
Edward Charrette
Assistant Audio Technicians:
Heidi Lorentz
Mike Nelson
Stage Hand:
Corey Hucks
Production Assistant:
Andres Barbosa